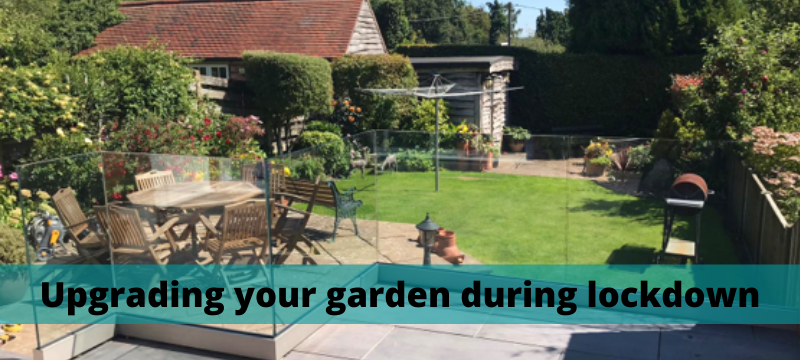 Upgrading your garden during lockdown
Much like the rest of the world, the UK is currently going through a period of national lockdown due to the COVID-19 pandemic. These are unprecedented circumstances that we find ourselves in, and whether working from home or going through furlough, everyone is struggling to find meaningful ways to spend this extra free time.
The good news is, now is the perfect time to give your garden that long-awaited TLC you have been putting off for months (or even years!). Spring has sprung, and with a little inspiration and a lot of extra time, the team here at Square 1 Balustrades believe that you can transform your garden into a tranquil space – perfect for all the family!
We have been working hard behind the scenes to be able to offer the same reliable service we have become known for. So, although we may not be able to offer the same installation services right now, we can still provide the highest quality balustrades, perfect for those DIY garden renovations!
If you have been considering spending some time in the garden but are stuck for inspiration – we are here to help! From modern stainless-steel balustrades to pleasing glass and minimalist wire balustrades, today we're sharing with you our top tips for upgrading your garden during lockdown with Square 1 Balustrades!
Is it safe to garden during the COVID-19 pandemic?
Although we are currently unable to leave our homes unless it is for any of the following:
One hour of daily exercise
Essential groceries
Work when working from home is not an option
Essential medical appointments
There is nothing stopping us spending time outside when it is in the confines of our own homes! In fact, gardening, and spending time out in the sun and in the great outdoors, even if it is just your back garden, has shown to have a massive impact on mental health, so it really is encouraged!
We are well aware that not all of our customers have large spacious gardens, which is why we offer a range of balustrade options to suit all garden types and budgets. That means everything from a glass Juliet balcony to extensive decking glass balustrades.
Todays tips can be catered to you whether you do indeed have a lavish garden or are working with something smaller. So, let's get straight into it!
Create the illusion of space with a glass balustrade
Our range of glass balustrades have been used on both indoor and outdoor applications for a wide range of projects. From stairs and pools to decking – glass balustrades are a great way of making a space appear bigger.
Is your garden small, or perhaps you just want to separate a smaller area off? Whatever it is you are aiming for, glass balustrades are a fantastic option for gardens and balconies, and can offer homeowners the following benefits:
Low maintenance and easy to clean
Aesthetically pleasing
Protects against the elements
Added security when applied to raised areas
Can add value to a property
Glass balustrades look great pretty much anywhere, but to get the most out of your investment consider these options when renovating your garden:
Poolside balustrades
Glass balustrades for decked areas
Glass balustrades to separate plants, herbs, or trees from the rest of the garden
Glass balustrades to frame pathways or replace traditional walls
Create a contemporary space with stainless-steel balustrades
Unless opting for a frameless glass balustrade, stainless-steel is a material we use throughout most of our balustrade systems. Modern, sleek and sturdy, stainless-steel balustrade kits are ideal for both indoor and outdoor use.
Wondering how one of our stainless-steel balustrades would fair in your garden? Many of our customers are surprised to know that stainless-steel is in fact one of the most durable materials out there, meaning that even during the wet and colder months, you can still benefit from attractive and strong balustrades.
Here is just a brief look at why stainless-steel balustrades are so great for garden renovations:
Low maintenance, simply keep up with routine cleaning using a simple chemical cleaner and warm water
Contemporary – One thing we can say with absolute confidence is that stainless-steel is ideal for a contemporary aesthetic. Stylish, minimalist, and effortless no matter what type of outdoor space you have
Versatile – Balcony, decked area, garden path or fencing – stainless-steel balustrades are perfect for all applications
Long-term investment – Unlike glass balustrades which pose a small risk of breaking, stainless-steel balustrade kits are less likely to need replacing for years and years, making them an ideal long-lasting investment
If you are looking for effortless style, increased safety and an investment that will add value to your home, stainless-steel balustrades may just be the ideal solution!
Create uninterrupted views with our wire balustrades
Wire balustrades use stainless steel wiring to create modern and low-maintenance safety solutions around your home. Wire balustrades such as those we supply here at Square 1 are most commonly seen outdoors as they are great in all conditions and able to withstand high winds. So, if you are looking to revamp your outdoor space with something that is simple to fit and will look great, wire balustrades may be the one for you!
Perhaps one of the key reasons that people go for wire balustrades is that they offer all the same benefits of a traditional balustrade without obstructing the view. Not only that, but they also have the added benefit of not requiring much in the way of upkeep when compared to glass balustrades.
Perfect for small or large gardens, wire balustrades are a great option to add a little something extra to your home.
Contact the team at Square 1 Balustrades!
Interested in getting the perfect balustrade system into your outdoor space?
You can fit one of our balustrades almost anywhere around your garden and, with the correct guidance, install it yourself with minimal hassle. Our website provides a huge source of information and advice on everything from picking the right balustrade to installation, but you can also give our team a call if you find yourself struggling!
At this time, we are operating a 'near-normal' service, so please do get in touch if you have any queries at all.