Have you become complacent with your home décor? You may not realise it but your staircase could be the key to transforming your home in 2020.
Despite being one of the biggest features of any multi-storey home, stairs are often overlooked as a means of adding design and flare and are left to age whilst the rest of the house is upgraded.
If this all sounds familiar, then you've come to the right place! At Square 1 Balustrades, we're experts in adding features to both internal and external staircases to create a point of interest, and today we're sharing five easy ways you can revamp your boring staircase for the new year!
1. Fit a quirky stair runner
Whether your interiors are traditional or contemporary, a fresh stair runner can make a world of difference – adding a pop of colour and character to an otherwise drab set of stairs.
It's no secret that budgets are often tight as we enter a new year, and so the option to completely revamp your staircase may be out of the window. However, adding a new stair runner can be a cost-effective way to completely transform your staircase into something you – and your guests – will love!
2. Incorporate valuable storage
Who doesn't love a bit of innovative storage? The awkward space underneath your stairs doesn't need to go to waste, and with a bit of innovation and inspiration, you can create some handy, attractive storage!
Whether you opt for discrete cupboards and drawers, or some exposed under stairs shelving, upgrading your tired stairs into a place to store your treasured possessions is a great way of adding style and value to your home.
3. Add a pop of colour with some plants
Working to a tight budget? No problem! Adding greenery to your staircase can give it a new lease of life with minimal effort – or cost.
You don't have to spend a big chunk of money to create a staircase that looks fresh and new, and adding house plants on or around your stairs can have a big impact.
The best bit is that anyone can do this. If your stairs don't get much in the way of natural light, simply opt for a low-maintenance plant that requires little care to look good.
4. Add or upgrade stair balustrades!
If you're looking to make more of a statement with your staircase, adding or upgrading your bannisters with a brand-new balustrade can be an effective way of doing just that!
We specialise in bespoke, high-quality balustrades, including wire balustrades and stainless-steel balustrades, ideal for adding a contemporary twist to your home interiors.
So, whether you want to improve the safety of your home without hindering the aesthetic appeal, or just want to upgrade your tired stairs – considering a balustrade can be a great way to invest in the future value of your property.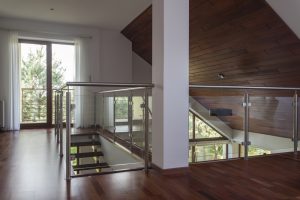 5. Fit a balcony
Fitting a glass balcony can provide a huge range of benefits, not least the illusion of more space, but in fact, investing in a glass balcony for your staircase can add great value to your home.
Not only is a glass balcony ideal for creating a contemporary look within the home, but it's also safe and low maintenance with an easy to clean surface perfect for even the busiest of homes.
Let us help revamp your tired staircase for 2020!
Here at Square 1 Balustrades, we believe in individuality, so we always strive to ensure your every design need is met. With bespoke options from the type of glass you opt for to those finishing touches, we can work with you to create your dream staircase with fitted balustrades or glass balconies.
Want to find out more? Why not get in touch with us on 01489 583 371 or email to mail@square-1balustrades.co.uk, our team of experts are happy to answer all of your questions!