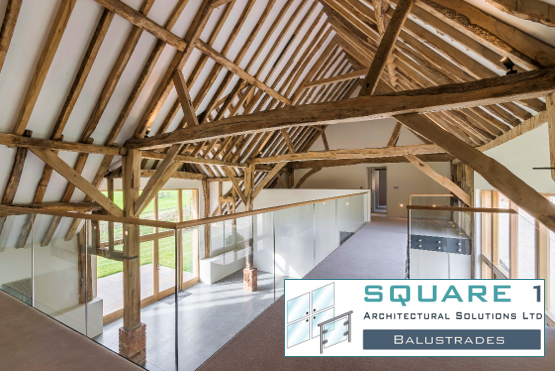 How to choose the right type of balustrade system for your home
Is making the final decision on a balustrade system proving difficult? We get it. With so many balustrade types available, settling on the perfect one for you can be easier said than done. Whether you're looking to improve the look of your commercial building or want to change-up the aesthetic of your home, at Square 1 Balustrades, we can help you make that difficult decision.
There could be a multitude of reasons for why you've not quite decided on a balustrade just yet. Whether its down to personal preferences or something more practical such as safety, location or budget. So, how do you wade through the extensive options, and what are the most important things you should be thinking about?
In today's blog – we're going to be sharing some of the most important deciding factors that you need to consider before selecting a balustrade kit that will compliment your space. So – let's get straight to it!
Location, Location, Location
The chances are that if you're here, then you will already know where you want your new balustrade to go. Whether you're adding an additional element of safety to your decking with a patio balustrade or want to make your staircase a focal point of your interior, the where is just as important as the why.
Our collection of balustrade types can be installed both indoors and out, however there's no denying that certain materials perform better under different conditions. Whilst all balustrade styles will work well indoors, if you're considering a glass Juliet balcony or a stainless steel balustrade for your garden – you may need to think about how much time you are willing to dedicate to the general upkeep and maintenance involved.
Traditional or contemporary?
Although there are many different styles of balustrade, most can be categorised as being either modern or traditional in style. The type of home or building you're working with may influence your final decision, so it's always worth considering the style you want to create before parting with your money.
A great example of this is the popular glass balustrade stairs design that has become highly popular in both homes and offices. Typically, this type of balustrade creates a clean, contemporary and spacious aesthetic, and may look less at home in a very traditional setting. So, whether you're looking for old fashioned décor or something ultra-modern, this can be a big influencing factor when picking the right balustrade style for you.
Budget
Perhaps one of the most important aspects you will be faced with when deciding on balustrades is budget. This remains true whether you're doing home renovations or selecting balustrades for commercial purposes – and ensuring you're aware of the different balustrade prices can help narrow down the search for that perfect system.
At Square 1 Balustrades, we pride ourselves on offering a selection of balustrade styles to suit all projects and budgets. So, if your dream balustrade is just out of budget, we can work with you to come up with an alternative that will compliment your space without breaking the bank.
Get your bespoke balustrades at Square 1 Balustrades
We understand that opting for a balustrade is a huge investment, so we want to ensure that the one you opt for it perfect for you. With that said, we encourage anyone struggling to settle on a type of balustrade to get in touch with our team of experts. We have many years of experience in the field, and can offer help, guidance and even installation services – so give us a call today to discuss your requirements!