A recent study revealed that a person's home accounts for around 15% of their total happiness – so it makes sense that regularly updating and improving the fixtures and fittings of our space is something we're all guilty of. However, when the budget is tight, what can you do to make changes that will still leave a big impression? One great place to start is with your stairs – and stair handrails are both an affordable and effortless way to improve your home.
Let's face it, home renovations are costly, stressful and time-consuming. Depending on what you're trying to achieve, your home could be in disarray for months or even years before you see the fruits of your labour.
Stair railings are often overlooked, but it's possible to transform a space just by applying some innovative stair railings to your existing staircase. So, without further ado – here are four innovative stair railing ideas to revamp a tired looking staircase in your home.
1. Frameless glass handrails
If you're fighting with a small space, staircases can fast become your enemy as you try to inject as much natural light and create an illusion of space. However, a frameless glass handrail fitting can be the perfect solution. They also work well in larger spaces, creating an effortless flow-through for minimalist chic interior design.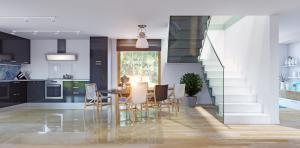 2. Stainless steel handrails
If you're looking to create a very modern theme within your home, stainless steel handrails can make a fantastic feature. From streamlined angles and a cool toned finish, stainless steel balustrades have become increasingly popular for stair handrails. What makes them even more ideal is that they are incredibly hygienic and easy to clean, making them perfect for a busy household!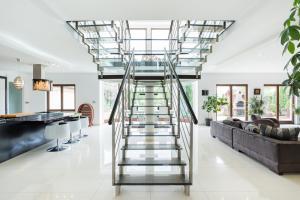 3. Bolted balustrade system
Interior balustrade systems have become more and more popular over the years as interior design has slowly moved away from the more traditional featured for a more modern, sleek approach. If you're looking to create a staircase that will impress your guests, opting for a bolted balustrade system without a handrail can be an effective solution.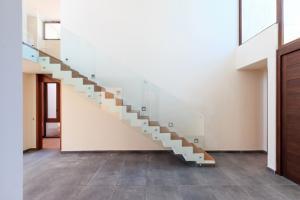 4. Stainless steel wire stair handrail
For the ultimate in minimalism, stainless steel wire stairs are perfect. With a sleek stainless-steel handrail and filled with wire, these stairs offer an industrial twist to a modern staircase. By allowing natural light through, they give the illusion of space without taking away from the overall design of the space.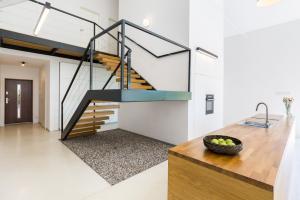 Contact us for your dream staircase
If you're looking to reimagine your tired looking staircase, our range of innovative handrail solutions may be just the thing you've been looking for. We specialise in glass balustrades for stairs, bolted glass, steel and wire rope as well as stainless-steel balustrade fittings for stairs. So, if you're looking for an affordable solution – get in touch with one of our experts today!