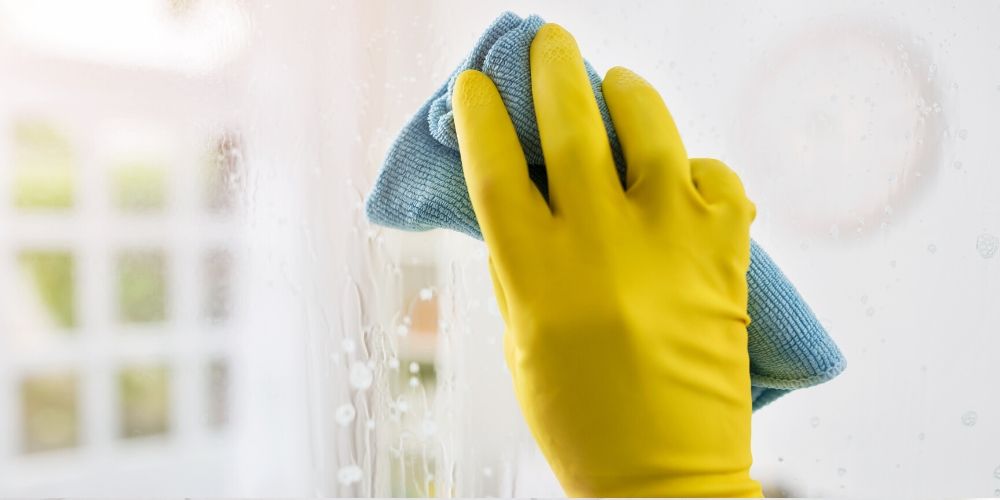 Easy glass maintenance – wipe away your doubts
Has being stuck at home during lockdown left you very aware of sticky finger marks and smudges on your glass windows and doors? Have you been considering using more glass in your home but are put off at the thought of having to try and keep it clean? Here at Square 1 Balustrades we love glass – we can't sing its praises highly enough – and we wouldn't want a little thing like cleaning to put you off using more.
Glass is a fantastic feature in the home, opening up space and allowing light to flow freely. Whether it's glass balustrades to open up the landing space and stairs, or patio glass balustrades to extend your view across the garden, we understand that you want them to be 'barely there' – and streaks, marks and high maintenance just won't cut it.
So, what is the solution? First things first, we must acknowledge that, yes, glass does need to be cleaned – but what doesn't? And the important thing to focus on here it is just how easy it is to do. Glass balustrades are simple panels – no awkward nooks and crannies or partitions to negotiate. Also, unlike other materials such as wood, there are no additional care needs, making long term maintenance a breeze. A simple, regular clean is enough to keep your glass in tip-top condition year in, year out.
Here we share our top 5 tips on some of the best ways to keep glass clean:
Make a homemade cleaner – this is our favourite suggestion as not only does it really work, it also saves you money AND benefits the environment! Instead of buying a branded window cleaner – which can be full of harsh chemicals and be costly – mix equal amounts of distilled white vinegar with tap water and store in an old spray bottle. To use simply spray onto the glass and wipe away – it works brilliantly. Failing that, keeping it simple with soapy water works well too.
Use the right cloth – this is important. To take the effort out of cleaning it's essential to make sure you use the right cloth. A chamois leather is ideal or – for a really professional finish – using a microfibre cloths makes light work of buffing, leaving you with a crystal-clear finish every time.
Choose your time – you will be pleased to know that cleaning your glass on a hot sunny day is not a good idea. Why? Because the heat makes the glass dry too quickly which usually results in smears – highly frustrating when you've worked hard. Much better to wait for a cooler, dull day instead.
Don't overdo it – whether you buy in or opt for homemade, use any cleaner in moderation – less is often more. If you use too much in an overzealous clean it usually just leads to streaks.
Cheat – ok we lied…this is our absolute favourite idea! For outdoor features such as glass balustrades or glass canopies, you'll often find that your local window cleaner will be happy to add cleaning it to his local rounds – meaning keeping your glass clean really will be effortless!
Any fears about keeping glass looking great should be more than outweighed by how easy it is to clean and maintain – and how fantastic it looks. So don't miss out on incorporating this great design feature in your home.
Why not take a look at our range of glass balustrades for stairs, patios, pools and more, right now? And, if you have any questions or would like to chat about the benefits of glass balustrades, and how you could use them in your home, then don't hesitate to get in touch with the team here at Square 1. We'll happily discuss your design ideas and do everything we can to help (…except the cleaning!). Send your questions through on our contact form or give us a quick call on 01489 583371.