Balcony installation isn't just reserved for large homes and extravagant budgets. In fact, Juliet balconies are a fantastic way of boosting the value of your property whilst also offering homeowners a plethora of additional benefits that can't be had with other balcony types.
If you're considering a Juliet balcony, you've come to the right place as today we're looking at the benefits of fitting a Juliet balcony to your home, and why it's much easier than you thought! Read on to find out everything you need to know.
What's a Juliet balcony and how does it differ from a regular balcony?
Otherwise known as a balconette, Juliet balconies are 'false balconies' that can offer an aesthetic appeal and additional security to your home without requiring the expense attached to building an actual balcony.
Juliet balconies can be made from metal railings or glass, and do not feature an actual extension like regular balconies, meaning they cannot be stood on or used as additional space. Instead, Juliet balconies serve as an affordable and simple way of transforming a room or area into a brighter place to enjoy and revamping the external appearance of your home at the same time.
What is the point of a Juliet balcony?
We know what you're thinking – a balcony you can't even use, what's the point?
It may seem strange, but a Juliet balcony still offers a wide range of benefits to homeowners, despite not being physically large enough to be utilised as functional space.
The main point of a Juliet balcony is to increase the aesthetic appeal of the home, which in turn often boosts value and makes a home much more enjoyable to live in.
For a full list of benefits – keep reading!
What are the benefits of installing a glass Juliet balcony?
Although all Juliet balconies offer their own benefits, by far amongst the most popular type of installation is the glass Juliet balcony which offers a modern design and a wealth of advantages, including:
Creating outside space, without the need for a pricey extension –dark and dingy rooms can sometimes be tricky to improve. With a glass Juliet balcony, you can bring the outside world in, making the room brighter, airier and creating the illusion of additional space.
No planning permission necessary – most big home renovations require some hurdles such as planning permission. The great part of opting for a glass Juliet balcony is that you don't need planning permission to install it, making it even easier (and quicker!) to do.
Increased safety – you wouldn't have a large window or door opening up onto nothing, and the price of adding balconies and balustrades can often exceed budget. With a Juliet balcony, you are able to add an additional level of security to your home whilst still benefiting from the improved lighting.
Improved air-flow – whether you're struggling through a stuffy summer or simply want to get some fresh air circulating around your home, adding a glass Juliet balcony or Juliet balcony railings can allow you to let air in without posing a safety risk.
Who can benefit from a Juliet balcony?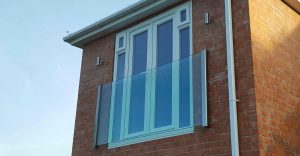 The short answer is anyone! Whether you own an apartment or a home, Juliet balconies can add visual appeal and value – and the best bit is that they're totally affordable and easy to install!
In particular, families who have young children and pets have found that the addition of a glass Juliet balcony has helped to improve safety standards in the home, as regular Juliet balcony railings could still pose a risk as smaller objects can fall through the gaps.
So, whether you're looking for a frameless glass Juliet balcony for a sleek and contemporary aesthetic, or a traditional Juliet balcony with railings, here at Square 1 we can help make your visions a reality.
Not sure what kind of Juliet balcony will work best for your home? Why not get in touch with us and our team of experts will be happy to help you in the decision making process.